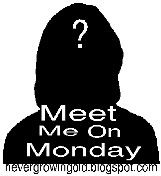 Questions:
1. How many TV's do you have in your home?
2. What is on your bedside table (nightstand)?
3. How many pair of shoes do you own?
4. Can you change a flat tire?
5. Do you prefer sweet treats or salty treats?
1. Let's see. 1, 2, 3, 4--I think that's right. Or maybe it's only 3--yes, we sold one.
2. My glasses, a lamp, a really cute Kleenex box, my alarm clock, a doll in a cute little chair, and a rocking horse music box.
3. I think 10-15 pairs. No real biggie with me.
4. In my mind, I can change a flat tire. I know the steps. But that's why I have AAA. I certainly have never done it and do not intend to do so.
5. Give me sweet treats! Give me chocolate, dark chocolate, milk chocolate, peanut butter chocolate, mint chocolate--I think I see a theme here!!
Sorry I did not include pictures. We got back late tonight. It's been a long day!