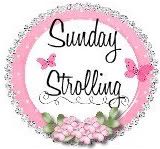 Haven't had time to participate in a blog hop in a while, so this one sounds pretty nice and easy.
Sunday Strolling is a Blog Hop! Add you link, grab a cup of coffee and start strolling.
Rules:
**♥Please follow the first link♥**
•How: Grab the button
•Now What: Start strolling
•Find An Interesting Place: Post comment and follow
•Remember:Follow who follows you.