Winner has been contacted, and this giveaway is closed!
Today I have the opportunity to give away a fantastic Mary Kay product--The Satin Lips Set. This product is simply fantastic!
Here is the information directly from the Mary Kay consultant (Wendy Hazel) offering the giveaway:
The Satin Lips Balm moisturizes lips for at least 6 hrs.
Application

:
Gently apply mask to lips. Leave on for 1-2 minutes, and then remove. Follow with balm.
Characteristics
Fragrance-free
How It Works
Lips have an extremely thin outer protective layer. As the body ages, the already thin layer becomes thinner. To compound the situation, we lose the oil and water barrier that keeps lips hydrated. Without the usual protective layer of sweat and body oils, the lips dry out faster, become chapped more easily, and can age faster than other areas of the skin.
The Satin Lips® Lip Mask contains miniature beads that gently, yet effectively, exfoliate dead surface skin cells that cause the lips to appear dull and lifeless.
The Satin Lips® Lip Balm contains a special complex of ingredients, including vitamin A and E derivatives and Ceramide 2, to help moisturize dry and rough lips. The balm moisturizes the lips for at least six hours, while providing and invisible barrier to keep the lips hydrated.
Use-Up Rate
Approximately 11 months, when used 3-4 times a week as a set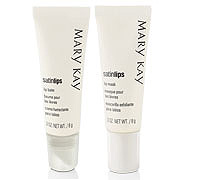 Satin Lips® Set (Mask and Balm) Value $18
Buff away dry skin with Satin Lips® Lip Mask (.3 oz. net wt.), then moisturize with Satin Lips® Lip Balm (.3 oz. net wt.) to keep lips soft.
This giveaway is a little different than my past giveaways. In order to enter, please fill out this form. One entry per person only. Giveaway ends Wednesday, February 2 at 9 P.M. Pacific Time. That's all there is to it. So go enter! Now!!
This giveaway is being offered by an independent Mary Kay consultant. She was kind enough to offer this giveaway to one of my readers only in exchange for my blogging about it. Thanks, Wendy!