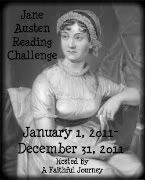 When I made my list of challenges for the new year, here is one I forgot. Amy over at A Faithful Journey has a book challenge this year--Jane Austen book challenge. I have always been a fan of Jane Austen's books. I believe I have only read Pride and Prejudice and Emma. I certainly have more to read of hers. And the cool thing is that I can also read Jane Austen-inspired books. I don't have an actual set goal of how many books I will read or which ones I will read, but this sounds like a great challenge. And not only that, but there will be prizes involved. So this challenge is now a part of new year. I also plan to get one more challenge going involving magazines. I will post about this later on today. Sorry I didn't post last night. Things were filled with drama yesterday in our home, and things are still pretty tough this morning. But we are all fine.
Here are the books I would like to read by Jane Austen:
Mansfield Park
Northanger Abbey
Inspired by Jane Austen books to read:
A Darcy Christmas
Writing Jane Austen
Jane's Fame
I am sure there will be more, but this is my initial challenge.