My Little Life
. She does a great job with her blog, and it is fun, so I recommend it. Read on for the rules.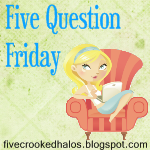 Rules for 5
QF
: Copy and paste the following questions to your blog post, answer them, then go to YouTube to vote for my video. (I kid. I KID!! Well, I mean, I want you to vote for me, but it's not a 5
QF
rule!) Then, c
'

mon
back Friday morning and link up!
Feel free to answer the questions in the comments if you don't have a blog!
Questions for Friday, August 26
th
: (Special thanks to
Pam
,
Deanna
,
Sandy
,
Jill
, and
Julianne
for their question suggestions! If YOU would like to be linked in a future 5
QF
,
c'mon
over to
my community
, and offer up your best question suggestions!)
1. H
ow many pets do you have?
2.
If you could switch places with anyone in the world for one day, who would it be?
3. What is
your favorite money saving tip?
4.
What do you want your kids to be when they grow up?
5. W
hat is your favorite quote?
1. This one is a matter of opinion. Okay, we have 1 dog--a German Shepherd mix called Sandy. We got her at the local animal shelter. She was a street dog for a while, and she still struggles sometimes in that area.
Cats: We have our domestic black cat--Dusty. We got him from the pet shop as a kitten last summer. We didn't let him outside until he was neutered, and he is more skittish than the other cats I will write about.
We have 4-5 wild cats--sometimes more. Calico came to us as a wild kitten. Her mom was horribly wild, and you couldn't even approach her. I worked very hard to tame Calico. And I succeeded. She was just recently spayed but not after she had two kittens--Cotton and Candy. The boy is Cotton, and the girl is Candy. Calico brought them to us when they were about 3-4 weeks old. We helped her care from them. The three cats make a great trio. They are tamer than Dusty.
We also have the father, Grey. He is not tame at all. And then there is Stripey. He is not very tame, but he wants the food that Calico, Cotton, and Candy eat.
2. That is hard one to answer. I don't think I'd want to trade places with anyone. No matter what, I would certainly find that they have more problems than I do. I'm fine being who I am.
3. I love coupons, sales, and buying online. I also like researching and waiting for the perfect time to buy.
4. I want my daughter to be whatever she wants to be. I want her more than anything to be a strong Christian who loves the Lord and serves Him with all her heart.
5. "They that wait upon the Lord shall renew their strength. They shall mount up with wings as eagles. They shall run and not be weary, they shall walk and not faint." Isaiah 40:31