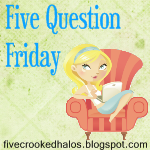 My Little Life
is hosting a Friday Blog Hop that I have not done before. It is called Five Question Friday. So here goes. Hope you learn something!
1. Do you have any nicknames and if so how did it come about?
I was known as "Ruthie Doll" by my grandmother. It was just her special name she called me, and I wouldn't let anyone else call me Ruthie. My mom used to call me "Rufus" when I was younger even though I don't remember.
2. What is your birth order amongst your siblings?
I am the younger one. My brother is 6 years older than me. No other kids in the family. I act like I am firstborn since I am the firstborn daughter, and I was raised almost like an only child.
3. In a movie of your life, who would play your significant other?
Now, that's a tough one. My ex--no one is crazy enough to play that part. And as for the guy I like now and would like to marry one day--I don't think there is an actor who could play him. He is far too unique and reminds me of no one else.
4. What is currently your favorite song?
"Love Story" by Taylor Swift.
5. Are you saving your money for anything right now? Big or small purchase?
I am only saving my money to hopefully continue to pay my mortgage so my house is not foreclosed since my renters don't seem to be able to pay it. That's a long story.