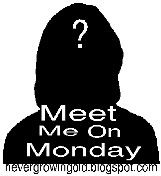 I absolutely love blog hopping! I am hooked! Java over at
Never Growing Old
has done it again, so here goes!
Questions:
1. What is your favorite kind of doughnut?
Hard to decide. I love maple bars, but I love old-fashioned as well. You know, I guess if I had to choose between the two, I'd go with the old-fashioned because I am sure I could eat the whole thing. The maple bar might make me sick. I couldn't eat the whole thing any more!
2. How often do you pray?
I pray several times every day. In fact, you might say God and I are in constant communication. When I don't pray, I mess up really big time!!
3. What is your favorite kind of music?
Musical theatre is still tops as far as I'm concerned, but country music runs it a close second. In fact, country is what I listen to mostly. But I also find that I need a variety of music or I get bored.
4. What do you order when you eat Chinese food?
You would ask this. Okay, I love sesame chicken, but it's pretty unhealthy. So if I'm being healthy, I order a beef and broccoli or something that is not fried. Otherwise, it's sesame or sweet and sour chicken. Again, I need variety though. I can't stand going in and ordering the same thing over and over again.
5. Would you rather snowboard in the winter or swim in the summer?
Let's see. I can't snowboard--I'm sure I'd fall if I tried. I love to swim! Easy answer.